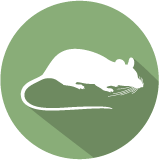 Rodents are one of the most widespread pests, infesting approximately 21 million U.S. homes each winter. These potential intruders may be small in size, but they can pose big problems once inside. While most homeowners might be generally familiar with rats and mice, people usually don't understand or realize the dangerous impacts they can have on our wellbeing and homes until it is too late.
Did you know....
....one female mouse can have 35 babies in a year?
....one mouse drops 255,000 fecal pellets in a year?
....rodents spread 35 diseases worldwide?