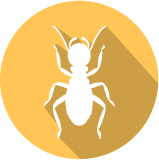 Protect your most important investment with either the Sentricon Baiting System or Termidor Liquid.
Termites are known as "Silent Destroyers" due to the fact that they are discovered usually after the colonies have grown and damage is done to your property. They cause more damage to homes each year than tornadoes, fires and earthquakes combined, and the majority of homeowners policies don't cover termite damage.
Ohio Exterminating is licensed and certified to offer both termite treatments, and we will work with you to determine which option is best. For information on what signs to look for and termite damage, look here.
If you still need a termite inspection of your property, we're happy to help!
Click here to receive a termite estimate for your property.