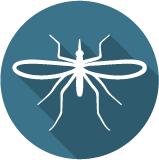 The Most Advanced Mosquito Resources Available.
MOSQUITOES CANNOT SPREAD SARS-CoV-2
Mosquitoes do spread many other dangerous illnesses, but are immune to coronaviruses.
Enjoy your yard this summer by treating for mosquito's from our new service we proudly provide. This treatment provides a safe and effective resource to control all existing mosquitoes as well as larvae that haven't hatched yet, in the hidden breeding grounds throughout your yard. Our trained technician fumigates your yard, concentrating under the leaves and bushes, where mosquito's like to hide. We look for any potential standing water, that attracted the mosquitoes in which they can lay up to 100-300 eggs at a time, up to every three days.